CT2.0
is the
World's Lightest Trike
built in
100 % carbon
fiber composite using the latest, most advanced manufacture technology. The frame is a true monocoque (one-piece) construction, completely unique and light-years ahead of other trikes and without compromises optimized in every single detail to make
CT2.0
the
Ultimate Race Trike
!
CT2.0
has many innovative features - handy
storage compartment inside the frame
, non-rotating boom, seat integrated in the frame adjustable for riders length.
CT2.0
is
fun to ride
! Equipped with superlight yet strong trike wheels and the best tires for race tires existing, the
CT2.0
Accelerates Much Faster
than other trikes. The seat is designed for active riding and extreme cornering, to keep you in place while you are free to lean with your upper body to maximize cornering speed and stability. Riding
CT2.0
let you truly be
One with the Machine
!
CT2.0
is equipped with an ultra wide range (561%) 11x2-speed gear system and high efficient hydraulic disc brakes. The steering is optimized for high speed without sacrificing tight cornering practicality and self-centering even at low speed. It is completely unaffected by the brakes or bumps in the road with perfect Ackerman compensation for minimum tire wear and rolling resistance. All this contributes to make the trike
Safe, Fast and Fun to Ride regardless of the Terrain
.
CT2.0
is a very fast trike, ideal for training, racing but also commuting or even touring. The trike is designed to be adapted for your needs whether it is for the sporty or practical way. By adding the optional rack system, that fits directly on the frame in perfect position behind the rider for maximum stability and minimum air resistance, you transform the trike to the
Ultimate Fast Touring Machine
!
Nothing has been left to chance! To make the
CT2.0
even more practical, safe and comfortable, we have designed a whole range of accessories specially for the trike; head rest, super-comfortable and ventilated seat pad, carbon fender, safety flag, rearview mirrors, easy boom adjust system, mounts for lights, bike computers etc. All available when you order the trike.
CT2.0
was introduced 2019 by
BCT
(a Joint Venture between US based Bacchetta Bicycles and CARBONTRIKES Sweden) and was elected to
Trike of the Year
by Bentrideronline the same year but the sale had to be paused later during the pandemic.

CARBONTRIKE LLC
has restarted selling
CT2.0
during 2023.
CT2.0

is now upgraded to
Perfection
!

Every single

CT2.0

from 2023 and later is precisely assembled and adjusted by trike specialists including high precision laser alignment of the steering and is finally test ridden before we pack and send the trike from our new shop in Florida.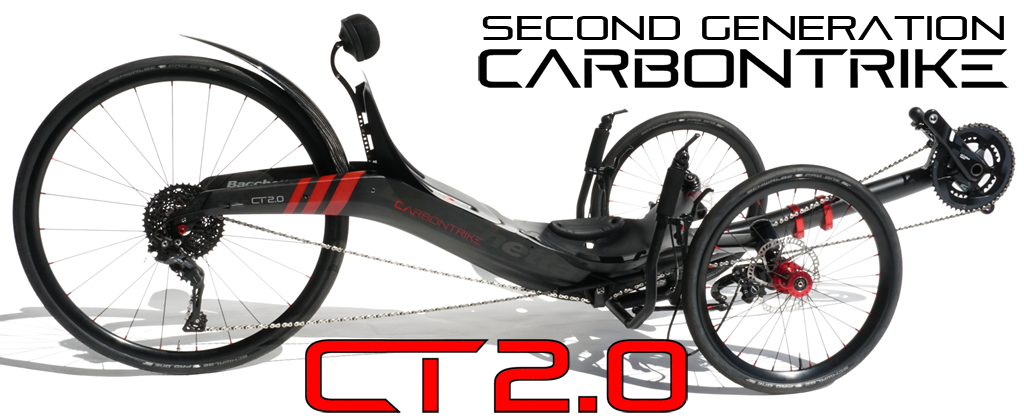 GEOMETRY
Weight: 26lb (11,8kg) **
Total length: Approx. 7' (215cm) *
Total Width: 29" (74cm)

Bracket Height: Approx. 15" (38cm) *
Seat Angle: 28°

Height: Approx 27" (70cm) *
Seat Height: 7" (18cm) without seat pad

Wheel Base: 47" (120cm)

Wheel Track: 27.5" (70cm)

Ground Clearance: 3" (8cm)

Turning Circle: Approx. 19' (5,8 m) outside to outside

Steering: Self centering, Ackerman compensated, indirect steering with fully eliminated brake-steer and bump-steer, optimized for high speed cycling, high precision laser aligned with 0,1 degree toe-in
Front Wheels: 20" (ETRTO 406mm)

Rear Wheel: 28" (ETRTO 622mm)

Max tire width: 1,75" (47mm)

Riders length: 5'3"-6'5" (160-195 cm) adjusted via boom and seat

X-Seam: 35-50" (89-127cm)

Weight Limit: 250lb (110kg)
Gear Range: 21-121" (561%)

Storage space: Approx. 1 gallon (4 liter) inside the frame
---
* Size adjusted for a 5"9' (175cm) rider
** The weight does not include pedals and seat pad. The weight can vary +/- 10%